Xinhua Lin's Team Revealed the Important Role of the Chromatin Remodeling Factor Znhit1 in Meiotic Initiation
On April 11th, 2022, Xinhua Lin's team from School of Life Sciences, Fudan University, State Key Laboratory of Genetic Engineering, and The Greater Bay Area Institute of Precision Medicine(Guangzhou) published a research paper Znhit1 controls meiotic initiation in male germ cells by coordinating with Stra8 to activate meiotic gene expression in the form of a cover article in Developmental Cell.
Keywords
spermatogenesis; meiotic initiation; Znhit1; histone variant H2A.Z; Meiosin
Highlights
• Inactivating Znhit1 impairs spermatogenesis in mouse
• Znhit1 is not required for Stra8 induction but is essential for meiotic initiation
• Znhit1-dependent H2A.Z deposition is required for Meiosin transcription
• Znhit1/H2A.Z and Stra8 co-occupy DNA and synergistically activate meiotic gene expression



Summary

The switch from mitosis to meiosis ensures the successive formation of gametes. However, it remains unclear how meiotic initiation occurs within the context of chromatin. Recent studies have shown that zinc finger HIT-type containing 1 (Znhit1), a subunit of the SRCAP chromatin remodeling complex, plays essential roles in modulating the chromatin structure. Herein, we report that the germline-conditional deletion of Znhit1 in male mice specifically blocks meiotic initiation. We show that Znhit1 is required for meiotic prophase events, including synapsis, DNA double-strand break formation, and meiotic DNA replication. Mechanistically, Znhit1 controls the histone variant H2A.Z deposition, which facilitates the expression of meiotic genes, such as Meiosin, but not the expression of Stra8. Interestingly, Znhit1 deficiency disrupts the transcription bubbles of meiotic genes. Thus, our findings identify the essential role of Znhit1-dependent H2A.Z deposition in allowing activation of meiotic gene expression, thereby controlling the initiation of meiosis.
Graphical abstract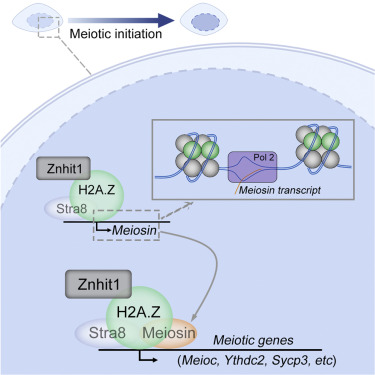 Click

1-s2.0-S1534580722001666-main.pdf to read the whole artical.